Sustainable Elegance | Handcrafted Terrazzo | Jesmonite Home Decor
Crafted to Perfection, Designed for You
Welcome to Urban Artisan
🌿Where Sustainability Meets Sophistication🌿
We believe in harmonizing style and sustainability. Our passionately crafted Terrazzo and Jesmonite pieces are not just décor – they're statements of conscious living.
Curated Inspirations | Timeless Beauty
For the Modern Urban Dweller
Are you an urbanite looking for space-saving, chic designs? Explore our heat-resistant pots and table-top lamps, perfect for adding character to compact living spaces.
View all
Luxury Green Living
Attention to detail, high-quality materials, and artisan craftsmanship make our products the epitome of luxury green living. Make a statement and embrace sustainability without compromising style.
View all
100%
Eco-Conscious Materials
Our products are made from high-quality, sustainable materials that are kind to the Earth.
100%
Artisan Craftsmanship
Each piece is meticulously handcrafted, exuding uniqueness and charm.
156
Timeless Designs
Our stunning Terrazzo and Jesmonite collections add a touch of timeless elegance to any space.
Dedicated to blending design with
Sustainability
Our commitment is to deliver unique, eco-friendly décor that respects the planet and enhances your home. Discover the difference of sustainable luxury with us today
Isam was helpful and provided great suggestions for my gift. The polygon pots, delivered sooner than expected in eco-friendly packaging, were loved by both me and the friend I gifted them to. Impressive service and beautiful craftsmanship.
They are precise, excellent, artistic, have a keen sense of style and quality and love for all of those beautiful ideals to show in their products!
Absolutely gorgeous design and high-quality product, love this lamp!
Beautiful and special products,very helpful and friendly team, they do their best to make sure that everything is great
Terrazzo Pots: Chic & Earth-Friendly
Transform your space! Discover our stunning, sustainable Terrazzo pots and make a chic, eco-conscious choice today.
Shop All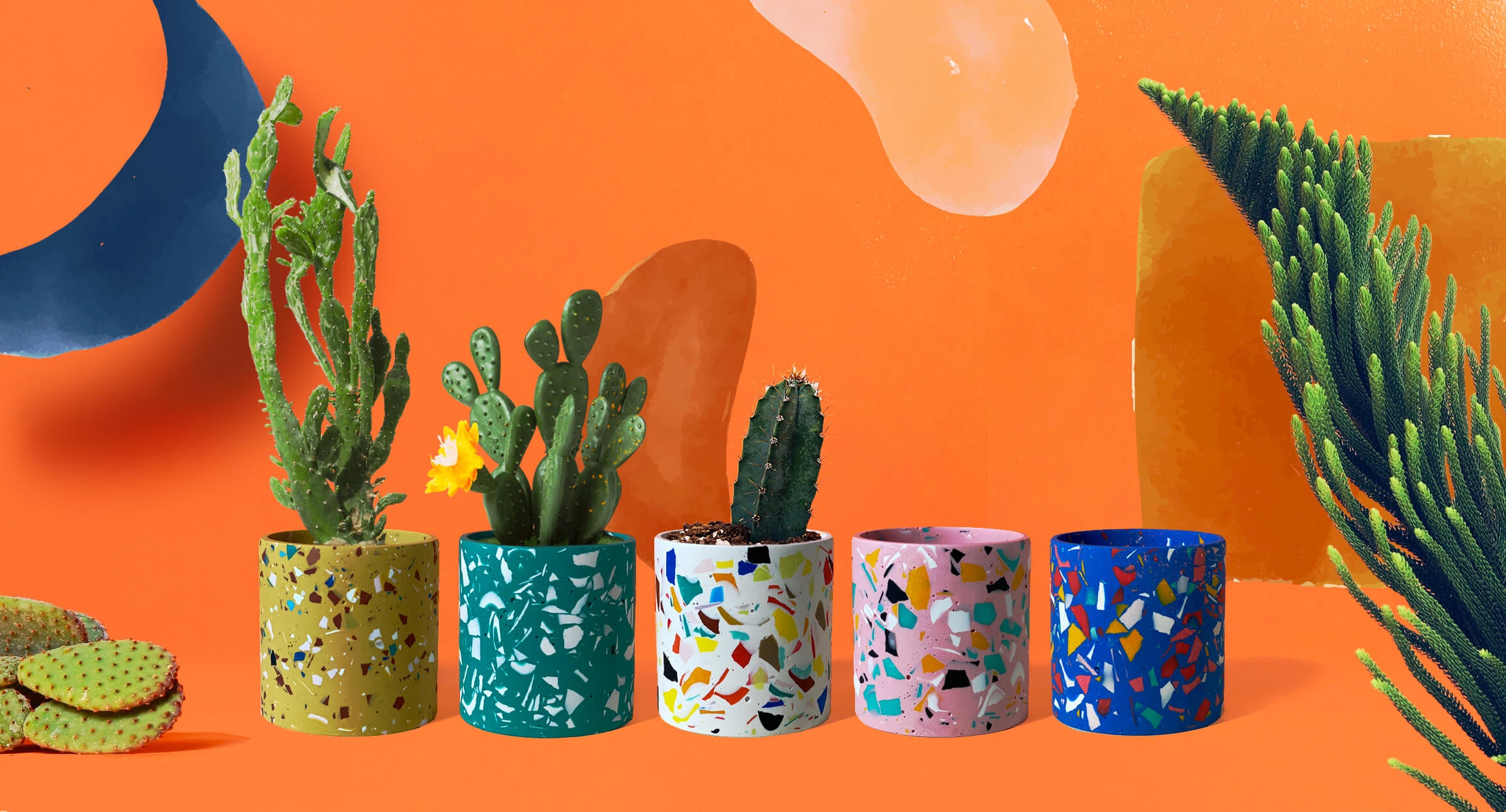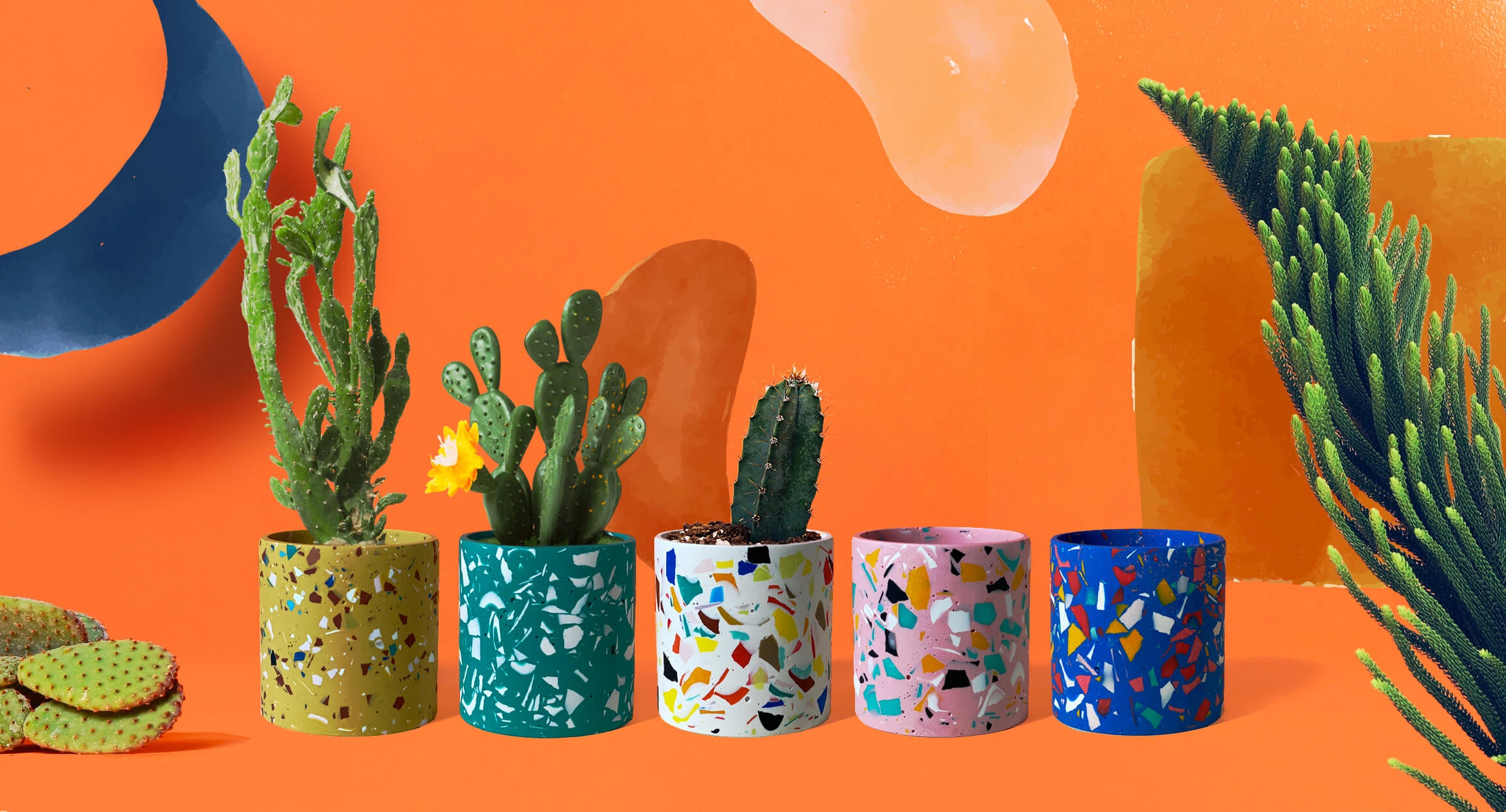 Available in seven different colors
These colors are a burst of fun for everyday life that will brighten up any space. Perfect jar to keep utensils, pens, and makeup brushes. 
The main material
Used in making these vibrant colorful chips is Jesmonite. it's a non-toxic, water-based resin that is made up of 2 parts – a mineral resin powder and an acrylic liquid. 

Sealed and Waxed
Each Terrazzo pot has been carefully hand-sanded to reveal the chips. Sealed and waxed with a stone guard sealant which makes them stain and water-resistant. 
Handmade Nature with Pad Base
Due to the handmade nature, each pattern will be unique and may have a slight variation in colors. Each pot has a felt pad base so that it doesn't mark or scratch your surface.
Learn Everything About us (our work)
FAQ
Use this text to share information about your product or shipping policies.
Are your products environmentally friendly?

Yes, all our products are made from eco-friendly materials. We prioritize sustainability in all our design and manufacturing processes. Our products are handcrafted by a dedicated team of creators who merge traditional techniques with sustainable practices to bring you unique pieces.
What materials are your products made from?

Our products are primarily made from terrazzo and jesmonite. These materials are eco-friendly and versatile, allowing us to craft unique, handcrafted pieces for your home.
What is terrazzo? Why do you use it?

Terrazzo is a composite material, consisting of chips of marble, quartz, granite, or glass, poured with a cementitious binder. It is eco-friendly, durable, and gives each product a unique aesthetic, making it ideal for home decor.
Jesmonite is a versatile, composite material consisting of a gypsum-based material mixed with a water-based acrylic resin. It's eco-friendly, durable, flame-resistant, and offers a range of design possibilities.
How do you ensure your products are sustainable?

We prioritize sustainability at every stage, from choosing eco-friendly materials to utilizing energy-efficient crafting processes. Even our packaging is eco-friendly. And For the health-conscious, revel in the peace of mind that comes with zero VOC emissions.
How do I care for my jesmonite/terrazzo product?

Jesmonite and terrazzo are easy to maintain. Just wipe them with a soft, damp cloth. Avoid using harsh chemicals as they can damage the surface.
Yes, we offer international shipping. Costs and delivery times may vary depending on your location.
What is your return policy?

We accept returns on products in their original condition within 14 days of delivery. However, you may be responsible for the cost of return shipping. For more information, please check our Return Policy page.
Are your products suitable for gifts?

Absolutely! Our handcrafted home decor items make for unique, thoughtful, and eco-friendly gifts. We can also add a personal note upon request.
How can I stay updated about your new products?

You can subscribe to our newsletter to receive updates about new product launches, sales, and more. Also, be sure to follow us on social media.
I have a question that isn't listed here, what should I do?

We're here to help! Please don't hesitate to reach out to us via our Contact Us page or email us directly at isam@urbanartisandxb.com with any additional questions or concerns.